A unique Spirit Festival in Belgium!
Spirits In The Sky is scheduled on the 9th and 10th of November 2019!
Spirits In The Sky is the only festival in Belgium dedicated to the best spirits of the world! Whiskies, rum, cognac, grappa, calvados, mescal, tequila, cachaça… We have it all! In fact, we're the only festival that brings all these categories together under one roof!
Countdown to Spirits In The Sky 2020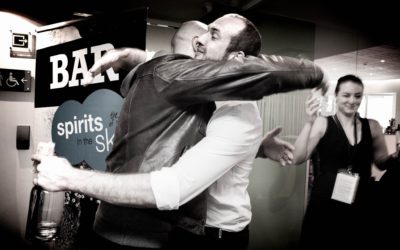 For the first time in 10 years, the admission price has gone up slightly . On location at the festival, you will now pay € 25 per person to enter the festival. But if you order your tickets online you'll be able to save 5 euro per ticket since you'll only pay € 20 ....
read more
Free guided tours
Discover everything Spirits In The Sky has to offer, by the hand of one of our staff members!
Master classes
Master your knowledge of the best spirits in town in one of our dedicated master classes.
Newsletter
Be the first to know important news and last minutes, by subscribing to our newsletter!
Presale and on-site
Pricing edition 2019
Online: € 20,00 per person, including tasting glass and 5 diamonds. Access to the fair at 12u30!
Early-birds can order their tickets before 1/8 at only € 17,50, and you can also find combi tickets if you're visiting two days in a row!
On-site: € 25,00 per person, including tasting glass and 5 diamonds. ATTENTION: ticket sale starts no sooner than 1pm!
Diamonds
You pay for samples with "diamonds". One diamond comes at € 1,00. They can be bought at Spirits In The Sky or via presale deal. Diamonds cannot be exchanged for money and are non-refundable!
Mobility
Parking available near Hotel Thon. Parking fees are never included in the ticket price:

Parking Hotel Thon ("Trierstraat"): € 5,00 / day
Parking "Wetstraat"

Easily accessible with public transport:

Brussel Centraal (1km)
Brussel-Schuman (300m)
Brussel-Luxemburg (700m)
Kunst-Wet (Subway)
Maelbeek (Métro)
Are you ready for your expedition?
By now you'll probably be starting to have an itch to visit our fair.  So what will it be?  Are you going to glaze over our masterclasses, see what our tours have to offer, or will you go straight for the ticket shop?